Products
The Allbeef Range...

Premium Black Angus Aberdeen Steakburgers
Delicious and meaty and 95% pure Angus Aberdeen beef.
The all new Allbeef Pastrami Burger
If you like it hot you'll love our new spicy tenderform Pastrami Burger with a rich garlic chilli kick.

It's on fire!
Allbeef Superior Beefburgers
By far our most popular product and a firm favourite amongst our customers. Juicy, meaty and perfectly seasoned.
Allbeef Brand Superior Burgers
A high quality burger with a perfect blend of seasonings, makes this product extremely flavoursome.
Allbeef Brand Super Economy Burger
Finally, a great quality economy burger with no compromise on taste!
Allbeef 95% Steak Burger
We are so proud of this burger! A 95% mouth watering beefburger, with a superb flame grilled aroma and taste.
Allbeef 95% Pepper Steak Burger
A more spicy variation of our original Steak Burger. Seasoned with cracked black peppercorns, fresh green chillies and onions that compliment the succulent beef beautifully.
Burgers are 4oz as standard but other sizes are available, just ask!
Allbeef - The brand you trust, the taste your customers love!

MoreLamb
Our lamb burgers are highly demanded and widely distributed across the UK and Europe.
Tasty lamb burger perfected with just the right quantity of herbs and spices. Delicious on its own, or in a bun with green salad and yoghurt and mint sauce. It's no wonder our customers love Allamb!
Doner Kebab
Here at King Fry Meat Products Ltd we understand what you need from your Doner Kebab:
Sliceability
Colour
Taste
Texture
Consistency
Our kebabs are machine produced and are available as Allamb or Beef and Lamb. With excellent cooking properties, our kebabs slice easily, are a distinctive golden colour, deliciously seasoned, with a firm and succulent texture.
Minimal fat and high meat content means no burning or blackening on the outside of the kebab during cooking, the kebab keeps its lovely golden brown colour throughout and is not at all greasy.
Available sizes:
Weight in kg; 5, 7, 10, 15, 20
Weight in lb; 5, 10, 15, 20, 30, 40
Sizes listed are standard and stocked. Larger sizes are available to order, depending on amount required. Contact us now to discuss your requirements.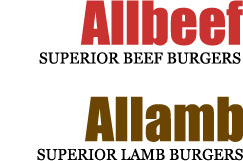 Did you know that our entire range of products are being developed to be Gluten-Free?
Same great taste - Gluten-Free
As demands grow for healthier alternatives we have what your customers need so that everybody can enjoy the great taste of ALLBEEF and ALLAMB! Ask for details.