The brand you trust, the taste your customers love! Contact us now and see what our wholesale halal meat products can do for your business.
Quality Reassurance
Allbeef / Allamb
We confirm that all of our branded products listed above are manufactured using pure beef and lamb, and all production is personally supervised by the long term, experienced directors of the company and furnished with detailed analytical certificates.

This assurance is given with confidence by the managing director.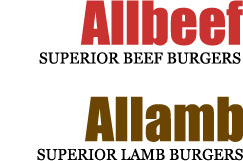 Did you know that our entire range of products are being developed to be Gluten-Free?
Same great taste - Gluten-Free
As demands grow for healthier alternatives we have what your customers need so that everybody can enjoy the great taste of ALLBEEF and ALLAMB! Ask for details.